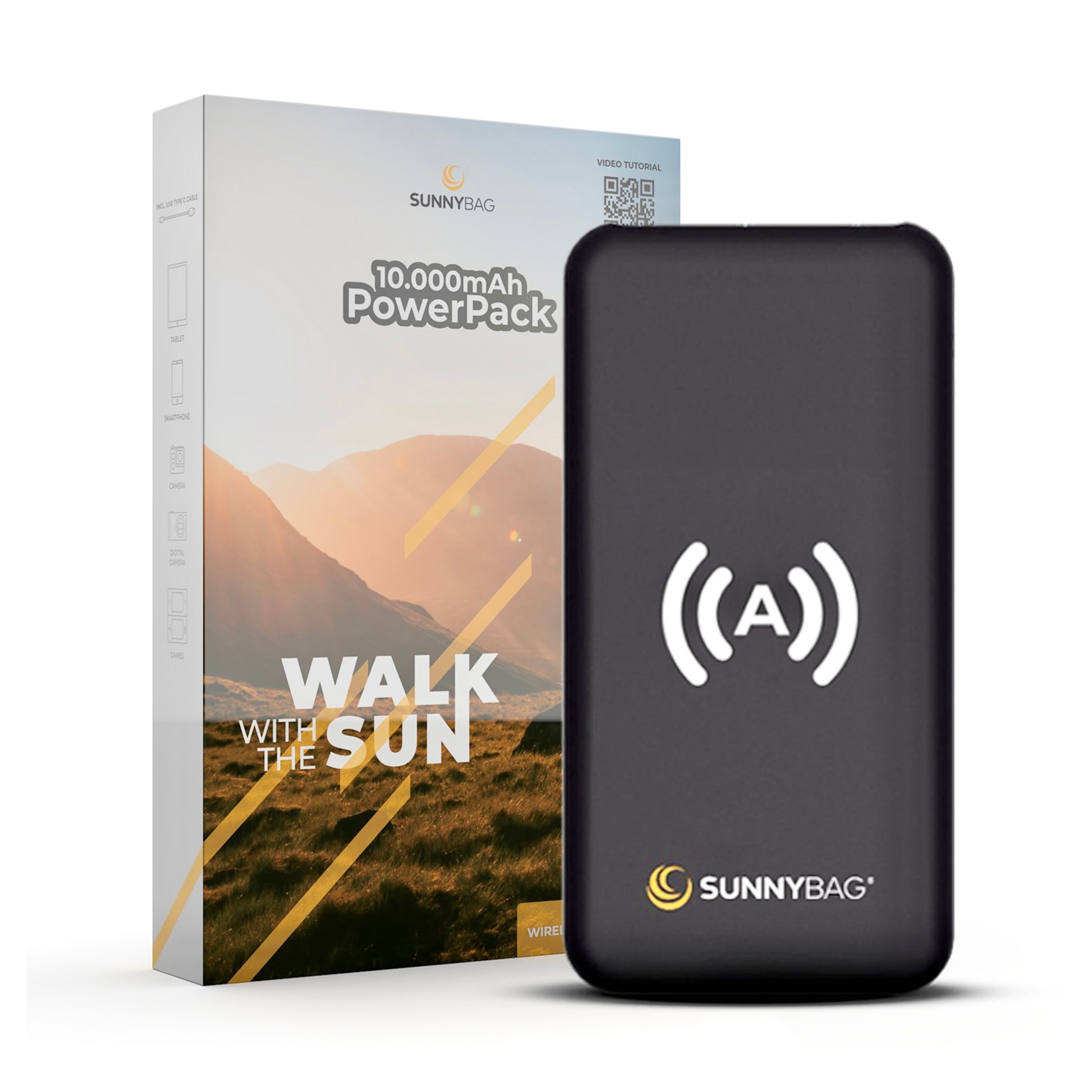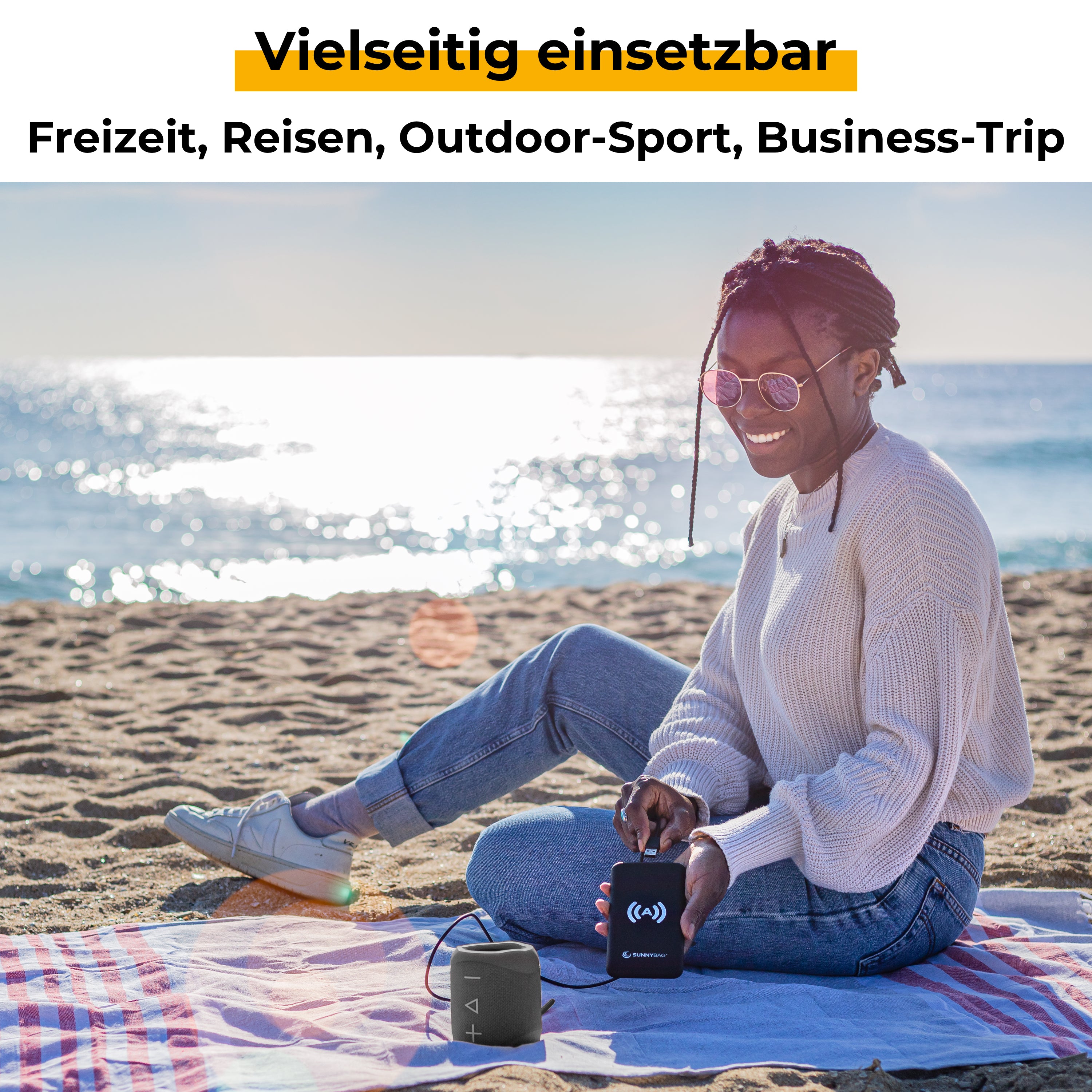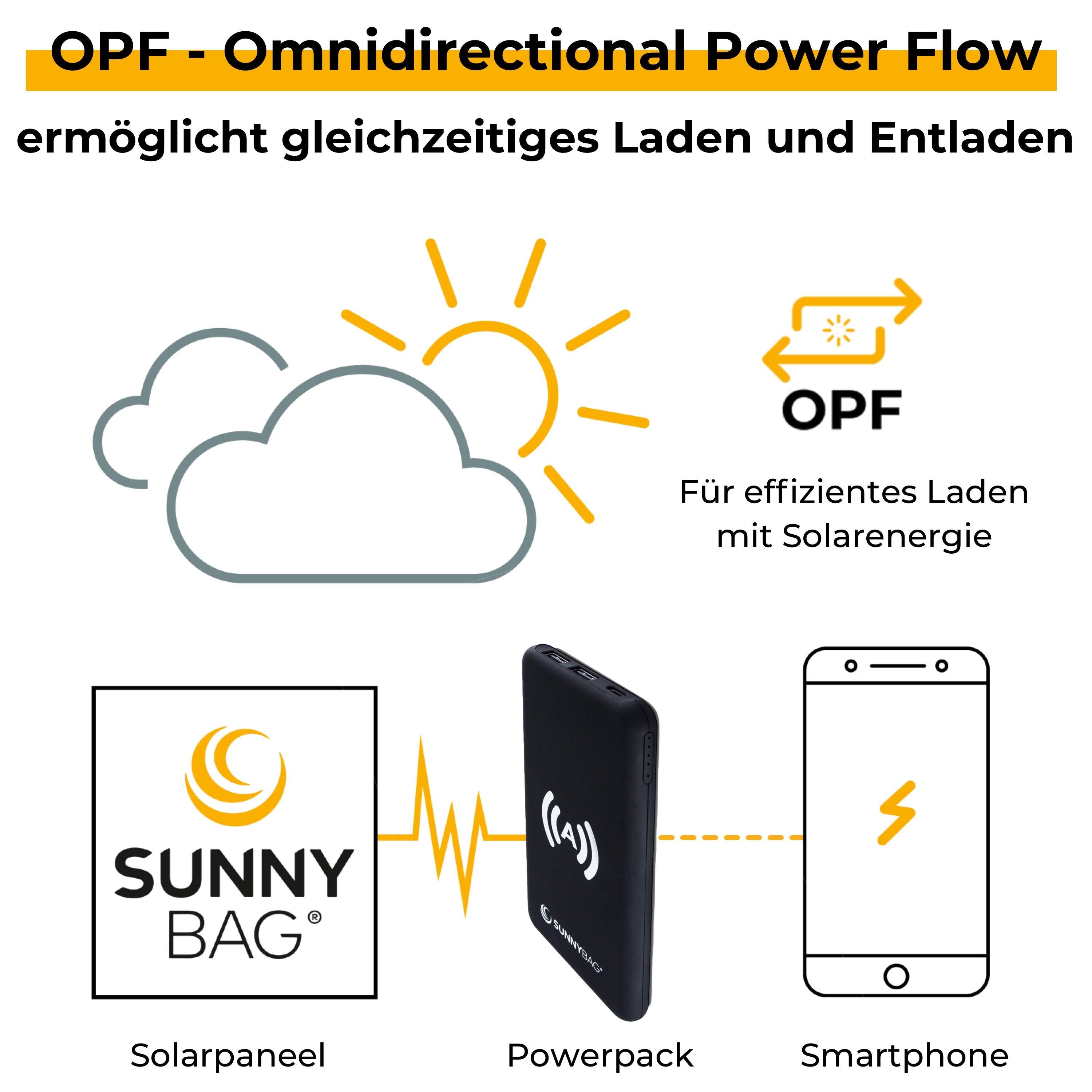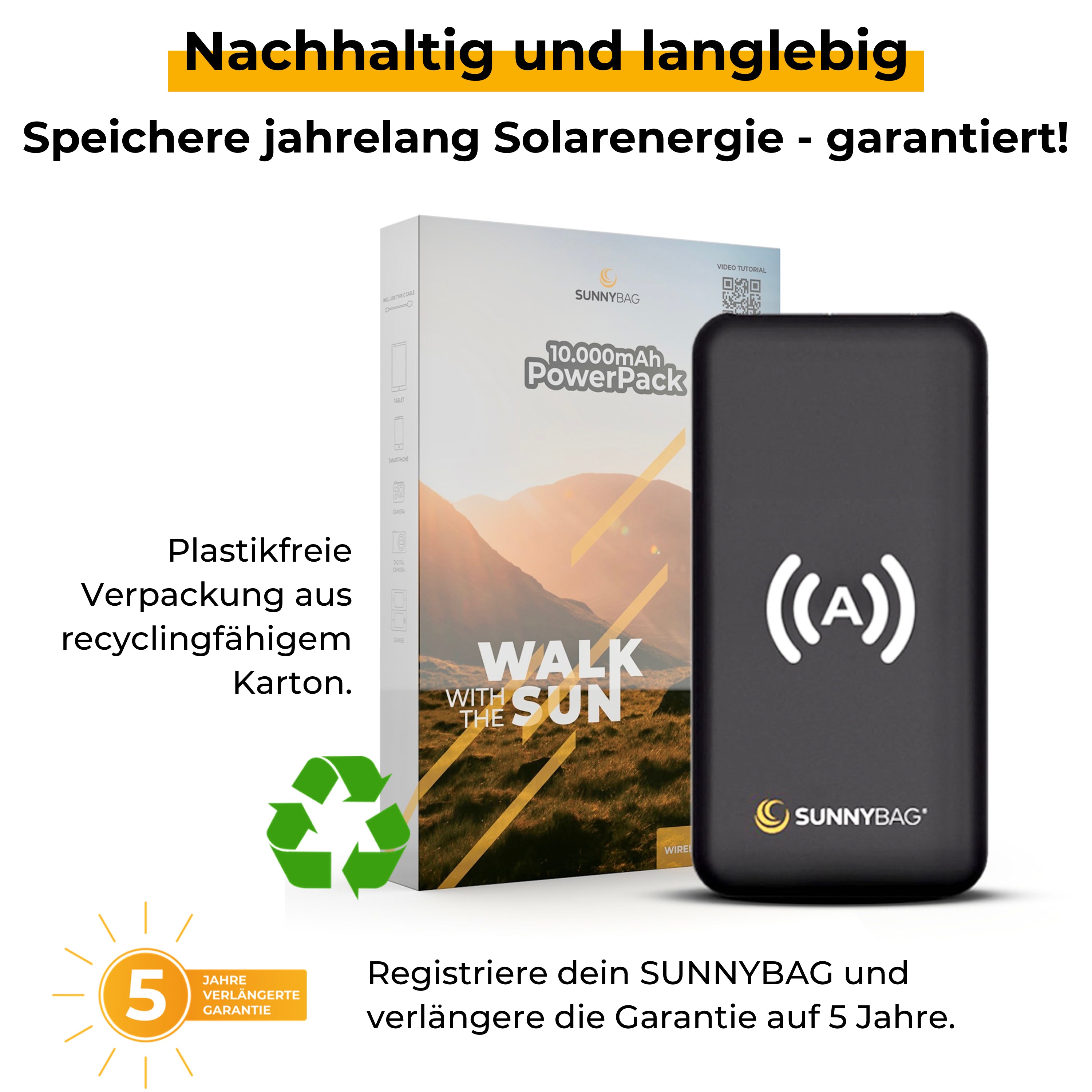 Sunnybag POWERPACK 10.000 Autostart Wireless Charging Refurbished
Ready to ship in 2-3 days
30 days return policy
Free shipping in USA
The Sunnybag POWERPACK 10,000 AWC supports the charging of USB devices (smartphones, tablets, smartwatches, action cams, music players, headlamps) and the Wireless Charging of QI enabled devices.
The POWERPACK can be charged regularly by a power outlet or a computer but also environmentally friendly via one of our SUNNYBAG solar charging systems. With a fully charged battery you can charge your smartphone up to three times depending on the model.
The green LED means that the battery is being recharged by the solar panel at the moment. A blue LED glows if the POWERPACK is charging a device via USB connection or Wireless Charging. When pressing the button on the side, multiple blue LEDs indicate the charging status. If, for example, three of the four blue LEDs are glowing then the battery is charged to 75%.
10,000mAh capacity (Li-ion battery)
Product dimensions: 156x79x15 mm (6x3.1x0.6 inch)
Weight: 280 g (0.6 lb)
Comes with USB C cable
1 USB C input
2 USB outputs (each 2 Ampere at 5 Volts)
High-quality TPE surface
LED charging status display
Overcharge protection - switches off automatically when the connected device is fully charged
The POWERPACK is the perfect match for the Sunnybag ICONIC solar backpack. The backpack is equipped with specifically designed compartments for Wireless Charging on the go. The POWERPACK is placed in the special compartment inside the backpack while your smartphone goes in the side pocket and just like that, the Wireless Charging starts automatically.
Autostart Wireless Charging (AWC) - The charging process starts automatically when the POWERPACK is being moved and a smartphone with Wireless Charging function is put next to it.
Omnidirectional Powerflow - The OPF technology enables efficient and simultaneous charging and discharging of the POWERBANK. That is particularly convenient if you want to collect sun power with a solar panel and use it at the same time. Depending on cloudiness, angle of incidence and intensity of the sunlight, the current flow from the solar panel to the connected device will vary. Some mobile devices cannot optimally utilize this directly fed solar energy. Our power bank, however, collects the fluctuating solar power efficiently and continuously and stores it. At the same time, a second charging coil feeds the stored power to the connected devices. That way, your devices can be supplied with solar energy securely and continuously.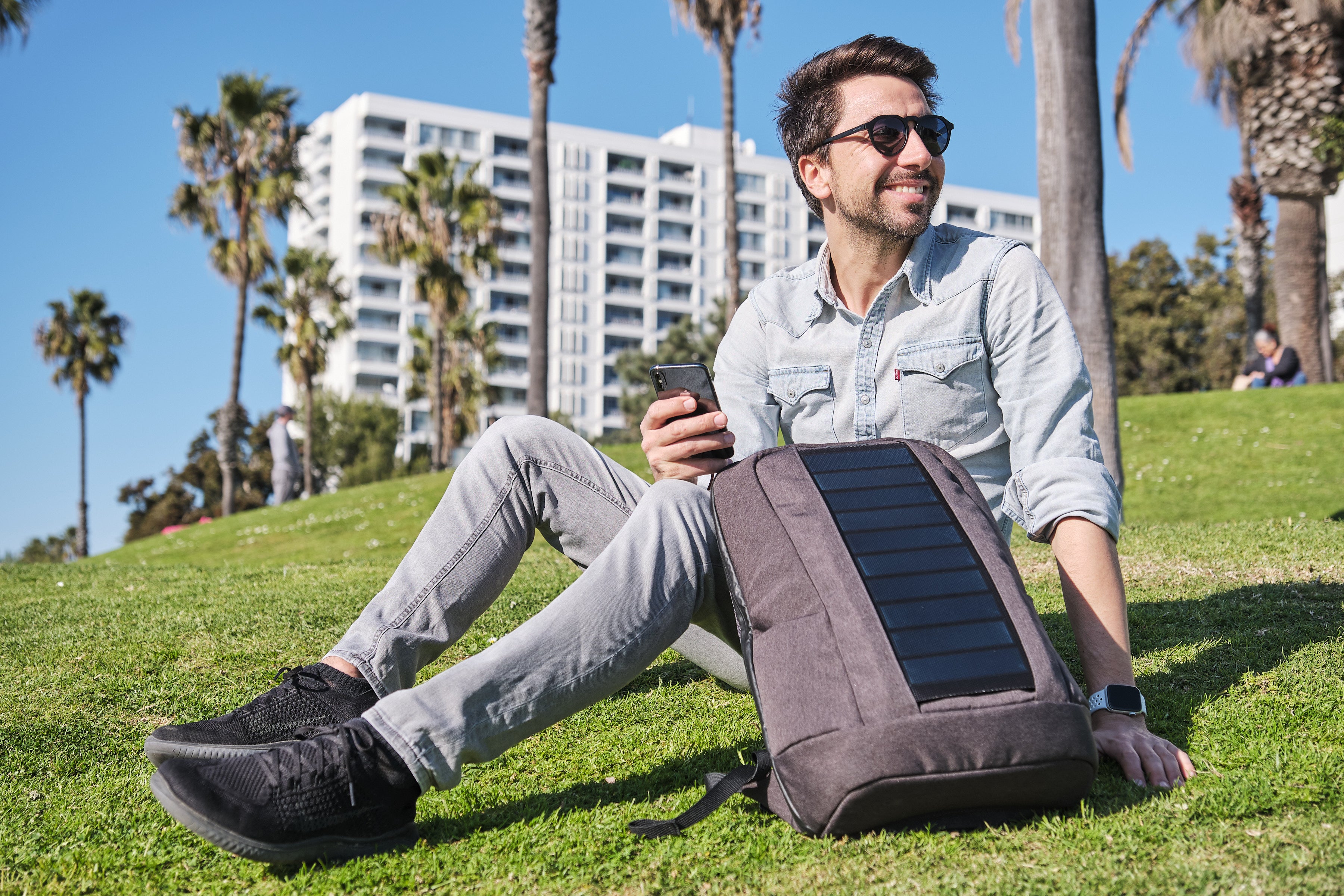 Who is SUNNYBAG?
We are a young and dynamic company from Austria that develops and distributes portable solar chargers. These charge your electronic devices on the go environmentally friendly with solar energy. Thus, each SUNNYBAG inspires to use renewable energy in everyday life.
Sustainably packed and delivered
We pack our solar panels and powerbanks plastic-free in recyclable boxes. We ship your packages Co2-neutral with the Austrian Post.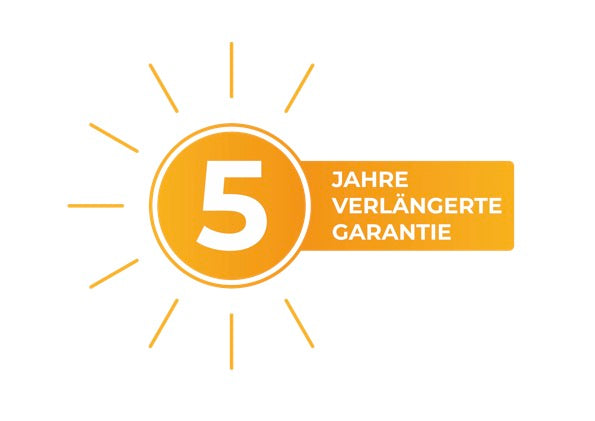 Extended warranty
The longer a solar panel is used, the more renewable energy it generates. Therefore, we offer 5 years full warranty if you register your SUNNYBAG.